The Backbone of e-Mobility
How secure and user-friendly are the products you and your company create? To the end consumer, this one question determines whether or not they will become an adopter of this future-thinking industry or stick with their current mode of transportation.
Inputting sensitive user data into vehicles and charging stations will happen millions of times per day, worldwide. The future of this industry relies on every single one of these transactions being 100% tamper-proof and secure. Imagine the news coverage on just one data breach!
As engineers and manufacturers, we must join forces to ensure data security and ease of use within every product and innovation before taking it to market.
Leading the Industry with Plug & Charge
The future of e-Mobility relies on creating products with two essential components: the highest level of IT security and utmost user-convenience. Plug & Charge has evolved as the industry-approved, future-proof standard for safe and secure EV charging technology. Plug & Charge protects each charging transaction with completely encrypted messaging and a bulletproof backend.
This course, "The Plug & Charge Ecosystem", is the third module in the bundled course "Data Security and Plug & Charge With ISO 15118". You can elect to take it on it's own or as part of any combination of the three modules. This module has 11 video trainings, while the full course has 30. Each video builds on the previous one to make you into a Plug & Charge expert at record speed.
After taking "The Plug & Charge Ecosystem", you'll:
Understand the interconnected backend processes and market roles necessary to provision a contract certificate to an EV.
Get to know the IT infrastructure in the cloud that keeps the Plug & Charge ecosystem running.
Learn how charging in a private environment differs from public charging in terms of data security.
Step-By-Step Instructions
"The Plug & Charge Ecosystem" was created as your guide to adapting your products, existing technology, and IT systems to the requirements demanded by Plug & Charge, as part of the ISO 15118 standard. This will reduce your time spent on trial and error, saving valuable time and resources – now and in the long run. Together, we'll go step-by-step through each detailed lesson, ensuring that you understand all the moving elements that make up the bigger picture. That's what makes this course unlike anything on the market today.
This intensive video training covers the second edition of the industry-approved application guide (VDE-AR-2802-100-1, release planned for January 2019) that specifies how all the different market roles must be set up to guarantee the seamless provisioning of a contract certificate. It's the perfect solution to understanding all the market roles involved and the technology behind this system.
Ongoing Resources & Community
"The Plug & Charge Ecosystem" comes with a full transcript of each of the 11 video trainings, so you can follow along as we go. You'll also have access to this detailed document to guide you through future implementations on your own.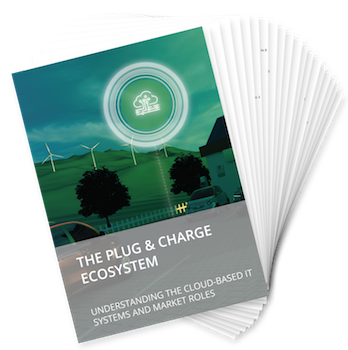 Joining this course means you are officially joining the V2G Clarity community. Together with myself and countless other engineers worldwide, we will openly troubleshoot any issues that arise within each other's implementations. You'll also have access to me as a resource any time you get held up by a concept within the curriculum.
Not convinced? There is a 30-day, 100% money-back guarantee. So you have nothing to lose. Are you ready to join the movement to make electric vehicle charging around the world user-friendly, future-proof, and completely secure? Click the "Join Now" button and I'll see you in lesson one!