A New Era of Data Security

The future of data security for electric vehicle charging is here and it's called: Plug & Charge. This course teaches you to successfully apply the tamper-proof security mechanism of Plug & Charge to your product line.
Without secure communication between EVs and charging stations, malicious third parties can intercept and modify messages. By using Plug & Charge, you'll prevent:
Financial loss for drivers and charging station operators from manipulated data
Driver frustration and loss of consumer trust in EV technology
Grid blackouts due to data attacks during simultaneous charging sessions
"The Cryptographic Foundations of Plug & Charge" is for programmers, engineers and manufacturers looking to create secure, interoperable, and standard-compliant charging infrastructure and products.
Step-By-Step Instruction
In this course, we'll explore hybrid cryptosystems, digital certificates and signatures, and public-key infrastructures. Some, if not most terms, will be new to you. But don't worry: we'll go through them in an easy-to-understand format. We'll also cover other cryptographic building blocks that come into play within ISO 15118.
These 11 video trainings make up the first module of the world's most comprehensive course on electric vehicle security technology, called "Data Security and Plug & Charge with ISO 15118". Module 1, "The Cryptographic Foundations of Plug & Charge", will give you all the necessary tools to avoid cyberattacks from malicious third parties and hackers, while ensuring the absolute most convenient solution for EV users.
Get ready to:
Understand how the foundational building blocks of Plug & Charge work.
Recognize the various market roles and types of digital certificates necessary for a charging and billing process based on ISO 15118.
Come away with a deepened tactical knowledge through hands-on exercises that use the open-source cryptography library OpenSSL.
Reliable and Secure Charging Infrastructure
The key to secure and efficient communications is within reach! In fact, it's already available in the cryptography package within Plug & Charge. But guaranteeing user convenience and impenetrable security comes at the cost of extremely complex technology. That's where this course comes in.
Together, we'll use the cryptography to guarantee secure and reliable charging and billing within your product line. You'll also learn how to establish authenticity and data integrity using digital signatures and certificates, and which types of digital certificates are needed within the public-key infrastructures specified by ISO 15118.
"The Cryptographic Foundations of Plug & Charge" is your shortcut to understanding the essential mechanisms that make ISO 15118 so secure and reliable, and to adapting them to your product line. You don't have to be a cryptography expert to join, but you will be one when you're done.
Ongoing Resources & Community
"The Cryptographic Foundations of Plug & Charge" comes with a full transcript of each of the 11 video trainings, so you can follow along as we go. You can also use this lengthy document after the course, as a reference guide during any given implementation.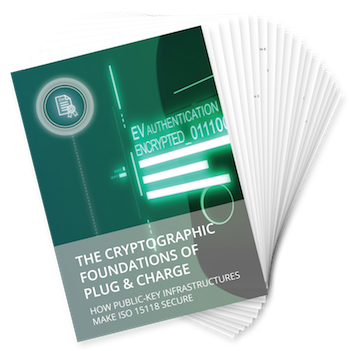 Joining this course means you are officially joining the V2G Clarity community. Together with myself and countless other engineers worldwide, we will openly troubleshoot any issues that arise within each other's implementations. You'll also have access to me as a resource any time you get held up by a concept within the curriculum.
Not convinced? There is a 30-day, 100% money-back guarantee. So you have nothing to lose. Are you ready to join the movement to make electric vehicle charging around the world user-friendly, future-proof, and completely secure? Click the "Join Now" button and I'll see you in lesson one!