Secure and User-Friendly EV Charging – Available Now

Let's face it: the charging products and stations of today are not 100% digitally secure. That means, malicious third parties can manipulate them and hack into a charging session, thereby manipulating data required for billing and energy flow. The result? Reduced consumer trust and slower adoption of this forward-thinking industry, worldwide.
It is in our hands – the engineers and manufactures of electric vehicles and charging stations – to place utmost importance on creating not just secure, but user-friendly and interoperable products around the world. We must be two steps ahead of anyone trying to tamper with the data necessary for charging the EV and billing the customer.
That's where the industry-approved and future-proof Plug & Charge feature of ISO 15118 comes in. The focus on data security and the incredible convenience for the end user makes Plug & Charge a bulletproof solution, but this also means it is difficult to implement. Until now.
Detailed and Hands-on Trainings
In "Defending EV Charging From Hackers", you will learn the ins and outs of protecting your products from third parties.
Get ready to:
Fully understand how to set up a Transport Layer Security (TLS) handshake in ISO 15118 and an encrypted communication channel between the EV and the charging station.
Minimize your implementation effort and apply the TLS handshake with RISE V2G (the free, open-source implementation of ISO 15118).
Know how the EV uses a contract certificate to securely authenticate and authorize itself for a charging session on behalf of the driver – without the driver ever needing to present an RFID card, QR code, or other identification.
Comprehensive Knowledge
This course is the second module of the world's most comprehensive course on EV charging security technology, "Data Security and Plug & Charge with ISO 15118". In the 8 video trainings within this module, we'll also dive into the trickiest part of security handling: the installation of the contract certificate using a digitally signed Certificate Installation Response message. This particular part is often misunderstood and implemented incorrectly. That's why this course will save you time and resources by preventing you from implementing faulty software and making sure your solutions are completely bulletproof, before they leave your computer.
Ongoing Resources & Community
"Defending EV Charging From Hackers" comes with a full transcript of each of the 8 video trainings, so you can follow along as we go. You can also use this lengthy document after the course, as a reference guide during any given implementation.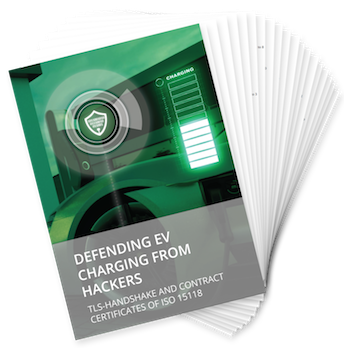 Joining this course means you are officially joining the V2G Clarity community. Together with myself and countless other engineers worldwide, we will openly troubleshoot any issues that arise within each other's implementations. You'll also have access to me as a resource any time you get held up by a concept within the curriculum.
Not convinced? There is a 30-day, 100% money-back guarantee. So you have nothing to lose. Are you ready to join the movement to make electric vehicle charging around the world user-friendly, future-proof, and completely secure? Click the "Join Now" button and I'll see you in lesson one!